The laser welding machine is mainly used for joining components that need to be joined with high welding speeds, thin and small weld seams and low thermal distortion. The high welding speeds, an excellent automatic operation and the possibility to control the quality online during the process make the laser welding a common joining method in the modern industrial production.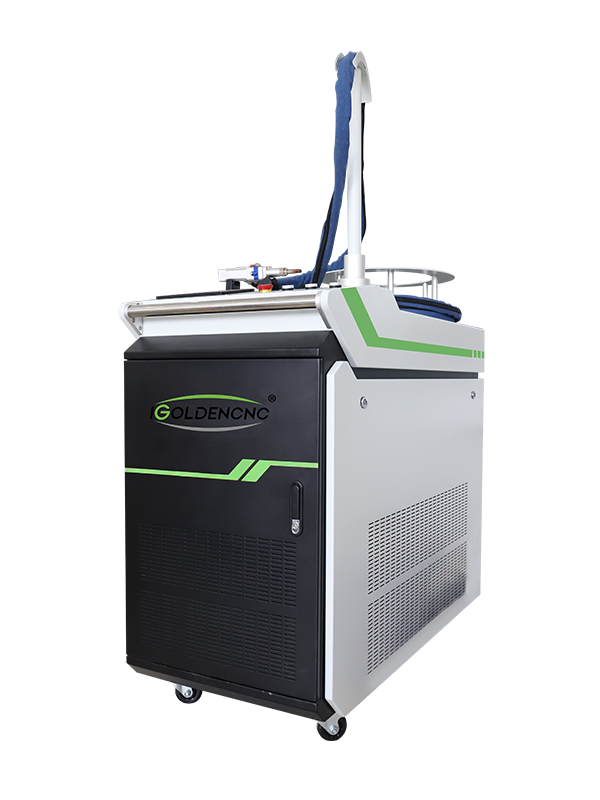 How To Use Handheld Laser Welding Machine?
The handheld laser welding machine is very easy operation, welding seam perfect, fast welding speed and without consumables. The handheld laser welder is widely used in welding thin stainless steel, iron plate, aluminum plate and other metal materials. The handheld laser welding machine can perfectly replace the traditional argon arc welding and electric welding technology.
Handheld Fiber Laser Welding Machine features the best fiber laser beam, high welding speed and high quality welding seam without consumables. The handheld laser welder is used for welding carbon steel, stainless steel, aluminum, brass, copper, iron, silver, gold, and more sheet metals and metal tubes. The portable handheld fiber laser welding machine will take over the traditional argon arc welding, MIG & TIG welding, and electric welding.
Handheld Fiber Laser Welding Machine is a type of portable fiber laser beam welding machine which couples the high energy fiber laser beams into the optical fiber, after long-distance transmission, then transformed into parallel lights through collimating mirror to be focused on the work piece to implement the welding. The fiber laser welder is more flexible to implement flexible transmission of non-contact welding for those difficult to weld site. The laser beam welding can realize the spectrum separation on time and energy, it can do multi-beam welding at the same time, it provides the conditions for high precise welding compared with the traditional MIG & TIG welding, electric welding, and arc welding.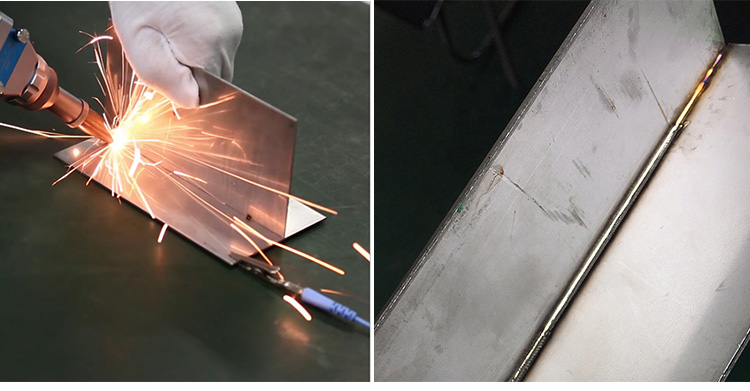 Handheld Fiber Laser Welding Machine Features
1. High laser energy density, small thermal effect area, not easy deformation, less or no subsequent processing.
2. Top brand gold cavity, high temperature resistance, corrosion resistance, the service life is 8 to10 years, the xenon lamp service life is more than 800 million times.
3. Easy spot welding, stack welding, splicing and continuous welding.
4. Variety of detection and protection measures using, greatly avoid the faults caused by a variety of external factors or human misuse, to protect the equipment with long-term stable operation.
5. Non-contact processing, stress free, noiseless, no pollution to the environment, which belongs to the green processing.
6. Good welding quality, smooth and beautiful appearance.
7. The communication function monitors all data of the laser.
8. The small fiber laser welding machine adopts a specific fiber to achieve the welding of tiny solder bumps.
9. High quality fiber laser beam, high conversion efficiency and therefore high welding speed, high aspect ratio, high strength.
10. Excellent spectral system minimizes energy loss to ensure that the laser energy of each fiber is almost the same.
11. The portable laser welder adopts optical fiber transmission, can realize remote welding, conveniently to equip with automatic welding workbench, manipulator, assembly line and other equipment together to work. More uniform light spot and more beautiful solder joints after the light transmission.
12. A variety of input and output signals are very easy to achieve the machine's automated production and assembly line production.
13. Solder joints non-pollution, weld strength and toughness at least equivalent to or stronger than the base metal.
14. The handheld fiber laser welder supports time spectroscopy and energy splitting or a combination of these two spectroscopic modes (customizable). Multi-channel fiber output, up to 4 fiber at the same time, significant cost savings, improve welding efficiency and reduce equipment space.
15. Touch screen input, friendly human-computer interaction makes setup and operation easier. The operating system is easy to learn and easy to operate.